We all love our crochet hooks and more so if they are ergonomic crochet hooks. These are so comfortable to work with that we hardly complain about the pain in our hands. Many people who are aged or have some problems like arthritis or carpal tunnel suffer a lot of pain in hands while crocheting. They either have to take some gaps or leave crochet altogether. Some are brave enough to bear the pain and continue their hobby. So for all of you out there, we are here with some amazing makers who can make beautiful customized crochet hooks for you. You give them a theme and you can a lovely beauty delivered at your doorstep. Let us see who all do this amazing work of making all us crocheters happy 🙂
Manda's Knotty Crochet: Amanda the owner and designer, from Texas-USA, has been making lovely ergonomic crochet hooks for all her lovely customers. Harry Potter, Orange is the New Black, mermaid, little animals theme anything you ask for, you will get it in her Etsy Shop. She has lovely ready to ship hooks and also loves making customized crochet hooks and stitch markers. Her Instagram feed is full of all cute crochet hooks that you can ever imagine. You can also check out her Facebook page and see her lovely creations. Do not forget to have a look at her scrap hooks and the recent addition of printed hooks. You got to order one from her 🙂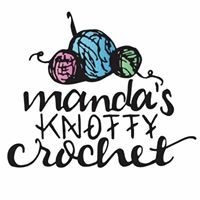 Pedros Plaques: Karen from Dover, United Kingdom has this unique style of making the ergonomic crochet hooks. Lovely soothing colours are used to make crochet hooks, brooches, needle minders for cross stitches and much more. You can check the Etsy Shop and see how the business was started. Instagram feed is lovely and will make you drool over all the creations. If you are on Facebook go have a look and gift yourself a lovely crochet hook today.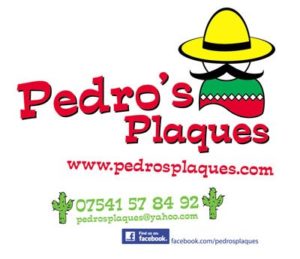 Harper Baby Shop: Angie Jack from Michigan, United States is the owner of this amazing shop which has lots of creative customized crochet hooks. Her Instagram profile is full of lovely creations that include some mermaid tail, Harry Potter, Friends themed hooks. You can also check out her Etsy Shop and Facebook page to see and request some amazing customized hooks. Order one mermaid tail hook from her, you will surely love it 🙂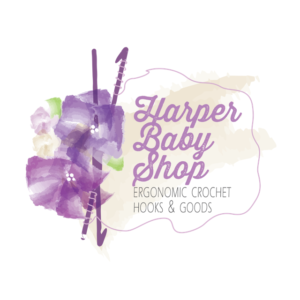 Chloe Rebecca Boutique: Becki again from Michigan, United States has named her shop after her daughter. This lovely shop offers you some awesome designs of ergonomic crochet hooks like Hogwarts sorting hat, Pacman, Minnie Mouse and rose designs. She also makes amazing stitch markers. You would love her Etsy shop for sure. Contact her on her Facebook Page or Instagram page for requesting some fun and amazing hooks.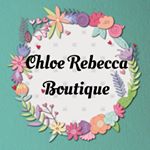 Hook.Ewe: Natasha Cropper a stay at home mom from Darlington, United Kingdom has some amazing ready to ship hooks on her Etsy Shop. She makes such cute designs like Pandas, Snails, pea pods and what not. Go through her Instagram Profile and you will find lots of cute hooks to order from. You can also get in touch with her on her Facebook Page to know more and have a look at her beautiful Customized Crochet Hooks.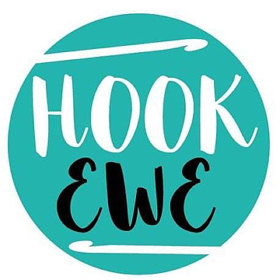 Noth Woods Hooks: KatieJo the owner of this shop is an excellent designer and creator of crochet hooks and has a unique style of making these lovely Ergonomic Crochet Hooks. She has awesome creations on her Instagram feed which consists of beautiful and attractive patterns. Do not forget to check out the latest addition to her collection which is a hook for making all chunky Items. Also, she has these lovely flowery pattern crochet hooks on, Etsy Shop, that you would definitely love to have. Just buy one from her and you would want to buy more. You can also contact her on Facebook for any of your customized orders.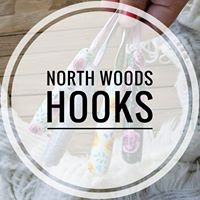 Get Your Customised Ergonomic Crochet Hooks today
So these are some lovely Ergonomic Hook makers who can make amazing personalized products for you. The most amazing thing we love about them is that although they belong to the same profession and have the same line of business they are very supportive of each other and give regular shoutouts on Instagram. Unity they have is amazing and the respect they show to each other is the only thing that made us write this post. They also have regular hook swaps where they exchange their creations with each other. To have a look at their daily stories check out their Instagram Profiles today.
Related Items:
LOVE WHAT WE ARE DOING? SUPPORT OUR EFFORTS AND KEEP US ENERGIZED
Buy us a Coffee
CONNECT WITH HOOKEDGOODIES ON SOCIAL MEDIA
Reader Interactions