The wedding is something that we all wait for. whether it is yours, friend's or a relative's wedding. It is such a beautiful ceremony calm, peaceful, elegant. People are just waiting to see the bride to be, her Bridal Shawl, her dress, her veil. Everyone is happy and cheerful. In all this beauty what if you see one crocheted beauty in the hand of a lovely bride. Yes, Wedding Bouquets are quite special right, and hence we have here some lovely patterns for you all.
Bouquets form a very important part of a wedding. If they are Bridal bouquet, oh my that is the most lovely thing you will see on the wedding day (after the bride of course). You can complement your wedding dress with this little crochet bouquet and the best part is the flowers will never wilt or wither and will remain as they are even after 50 years of your wedding. Isn't it great 🙂 So go ahead and try one of these lovely bouquets today.
Let us see what patterns we have for the Wedding Bouquets
Crocheted Wedding Bouquet by Maize Hutton is an awesome mix of crocheted flowers and leafs made with different colours. It looks so beautiful, it definitely needs to be a part of every wedding 🙂 It is a mix of big and small flowers and looks really pretty.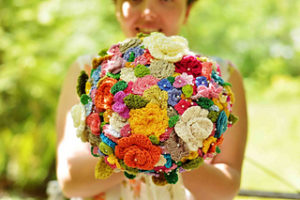 Wedding Bouquet by Nicky Epstein is made using Lion Brand Yarn in Pink and green colour. It looks so pretty, doesn't it? The pattern is available as a free download on the given link. We are in love with this one. You can also try a different colour combination as per the wedding theme or to match the dress 🙂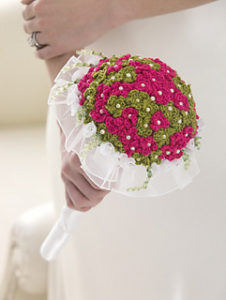 Bouquet de Mariee by Comtessecreations Comtess is made by using a 3.00mm Crochet hook. Flowers made are very easy and pretty and the pattern is available in English as well as French. You can try different colour combinations or all colours from your beautiful yarn stash.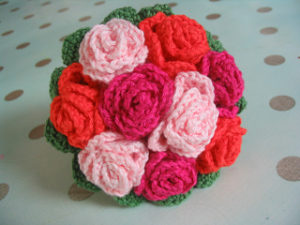 Bridal Bouquet and Boutonniere by Lorene Haythorn Eppolite of Cre8tion Crochet is a lovely and easy pattern. She has even described in detail how to make each stitch step by step like SC, HDC and DC. Yes, these are a part of the pattern so you have everything at one place. Have a look at this beautiful pattern and try it 🙂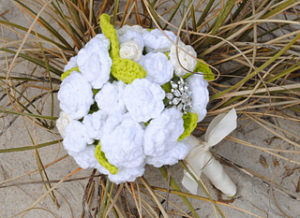 Blumen by Shelby Allaho is a bit different and colourful one. Just imagine a bride in a white dress holding these beautiful and colourful flowers. We loved it from a wedding and bridal point of view even if it is a Mothers Day Bouquet. The pattern is available as a download as well on the website. We are sure you would love making this, also it has a very detailed pattern so it will be quite easy to understand 🙂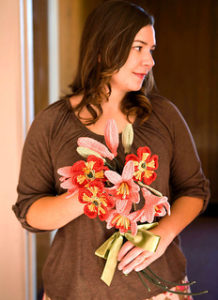 Bridal Nosegay by Nazanin S. Fard is just amazing, we bet you can not take your eyes off it. It looks so pretty and elegant. I am sure you would want to crochet this for your best friends wedding. This one is made using Aunt Lydia's classic crochet thread. You have to make this pretty bouquet nowww 🙂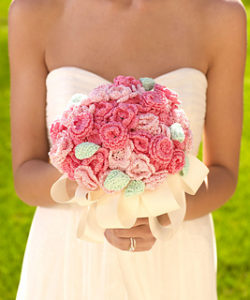 Aren't these Wedding Bouquets lovely??
You can also checkout our other crochet patterns
When you make them with your own hands and present them to the bride to be used as a bridal bouquet every one would love it and appreciate the effort 🙂 Do try at least one of these and you can make someone's wedding very special 🙂 If you have already made one and want to share the pattern, experiance or expression of the bride do write to us on our Facebook page and Instagram account, where we share our crochet creations. You can also check out our Pinterest account.
Check our other collated free patterns as well 🙂
Note: All the patterns and photos belong to the designers, we do not take credit for any of these.
Enter your full name,select your country and press the WhatsApp icon