A tablecloth is something that decorates the whole place surrounding the table. It is something that adds beauty to the whole room itself, be it a kitchen table, dining table or a drawing room table. Further, if it is a crochet pineapple pattern it adds a different charm altogether. We have some Free Crochet Tablecloth Patterns for you.
The Pineapple design is so beautiful and intricate that it attracts everyone's attention in a second. Today we bring you the best Free Pineapple Crochet Tablecloth Patterns. Let us see what patterns we have.
Also Read: 23 Free Pineapple Crochet Doily Patterns
Pineapple Crochet Tablecloth Patterns you would love:
Pineapple Petals Tablecloth by Coats & Clark made with J&P Coats Knit-Cro-Sheen (Size 10) and 1.5mm crochet hook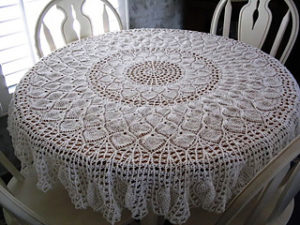 Lacy Accent Doily by Bendy Carter using Red Heart Luster Sheen Solid (Vintage) and 3.25mm crochet hook is a lovely pattern. It just looks stunning. This is one of the prettiest Free Crochet Table Cloth Patterns.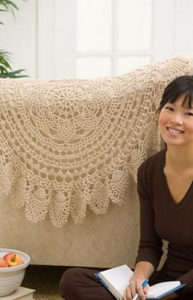 Pineapple Tablecloth on a website www.craftown.com. Materials required for this lovely tablecloth are about 18 (250-yard) balls J. & P. Coats "Knit-Cro-Sheen" in white, ecru or cream; in colors, about 26 (175-yard) balls; size 7 steel crochet hook. It is approximately Approximately 75 inches in diameter.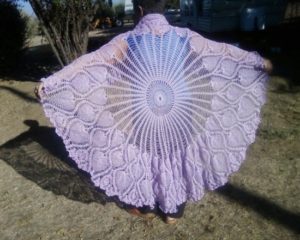 Pineapple and Spider Web by Alice Brooks lovely tablecloth made using a 1.65mm crochet hook. It can be made 40 inches in diameter or 60 inches in diameter with different sizes of threads as mentioned in the pattern.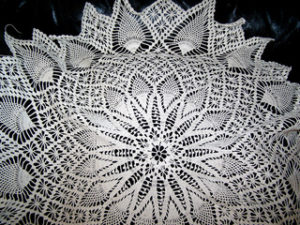 Any other Pineapple doily pattern can be converted into a Pineapple Crochet Tablecloth Free Patterns or you can also crochet many doilies and attach them together. There are many free patterns on Ravelry that can be converted into a tablecloth if they are extended and made further.
We will keep adding some awesome patterns here whenever we get them 🙂 Please do let us know if you want us to write about anything that belongs to the crochet world. Hope you like our posts that are not pattern related 😀 Writing some more soon 🙂
For any other post requests, free pattern post articles or to see our lovely crochet creations please visit our Facebook page and Instagram account where we share our crochet creations. You can also check out our Pinterest account.
CONNECT WITH HOOKEDGOODIES ON SOCIAL MEDIA